Like many girls of my generation and beyond, I have a soft spot for
The Wizard of Oz
. It used to play every year around thanksgiving and Christmas, and every year television would claim that it would never air on television again only for the Wizard of Oz to make an appearance on some station or another the following year. It seems that The Wizard of Oz has finally faded off the air, but it certainly hasn't faded from my mind, particularly those iconic ruby slippers.
The Wizard of Oz film we're all so familiar with is based on L. Frank Baum's book first published in 1900. Baum says of his book:


'The Wonderful Wizard of Oz was written solely to please children of today. It aspires to being a modernized fairy tale, in which the wonderment and joy are retained and the heartaches and nightmares are left out.'
The Oz books (Baum wrote 14 sequels to the first book) was one of the first picture books written by working with an illustrater, so text and images were made at the same time and complimented each other. William Wallace Denslow's art nouveau style illustrations set the tone for the 1939 Oz film so dear to many of our hearts. He used sepia tones for the 'The Grey World' of Kansas in the opening and switched to bolder colors for Oz.


In these stories, Dorothy was only 9 or 10 years old and her slippers were silver and not red, which went with the art neveau style of the time. The 1939 movie adaptation changed Dorothy's shoes to red, among other things. The switch to red was likely to capitalize on the technicolor shift. Red is a very vibrant color that attracts the eye. It also gives a primary color scheme to the main elements of the story; the yellow bick road, the ruby slippers, and Dorothy in her blue gingham dress. This also results in Dorothy wearing American colors of red, white, and blue, also the blue isn't as vibrant as the blue on the flag. MGM's slippers are also mid to low heeled pumps, which point to Dorothy coming of age in the film. When Dorothy comes to Oz, she switches from flat loafers to glamorous heels and trades her pigtails for a sexy head of curls. She also dons vibrant red lipstick, something I doubt she wore back in Kansas.


I confess, I haven't really read the books. I read one in the series quite some time ago, and it was in chapter book form without Denslow's pretty images. Thus, when I first set out to make my version of the famous slippers, I wanted to make a pretty faithful replica of the shoes used in the film. But when I took a closer look at the shoes used in the film, I saw they looked kind of cheap.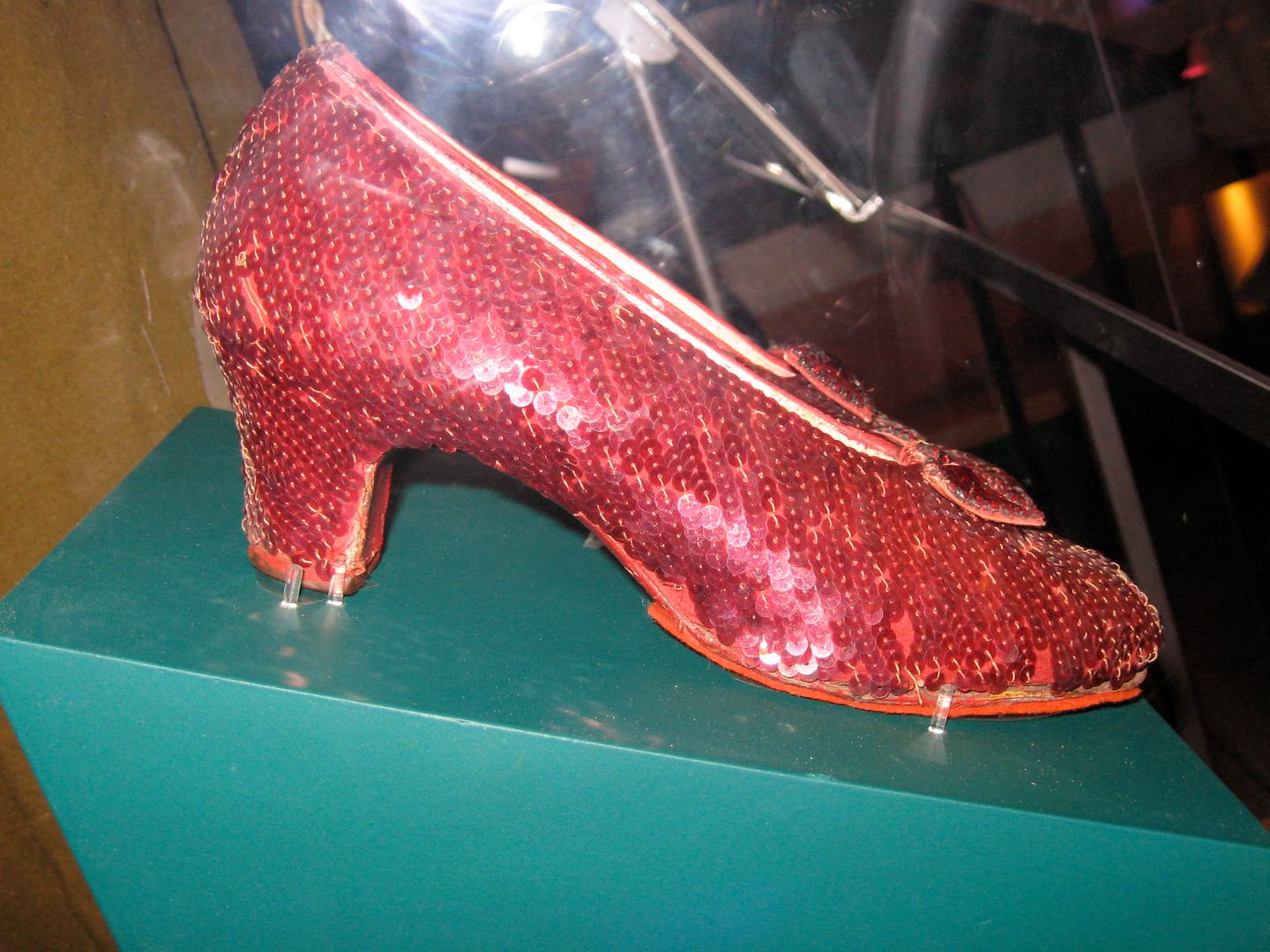 On screen, they shine brilliantly. In person, they're kind of dull, which is acceptable given their age. But rows of sequins were sewed onto leather shoes with white thread, which is clearly visible. The flat bow actually has rhinstones and bugle beads on it. Kind of a ladyboner crusher. (I read Agent Lover recently. My boyfriend was rather amused with "ladyboner.")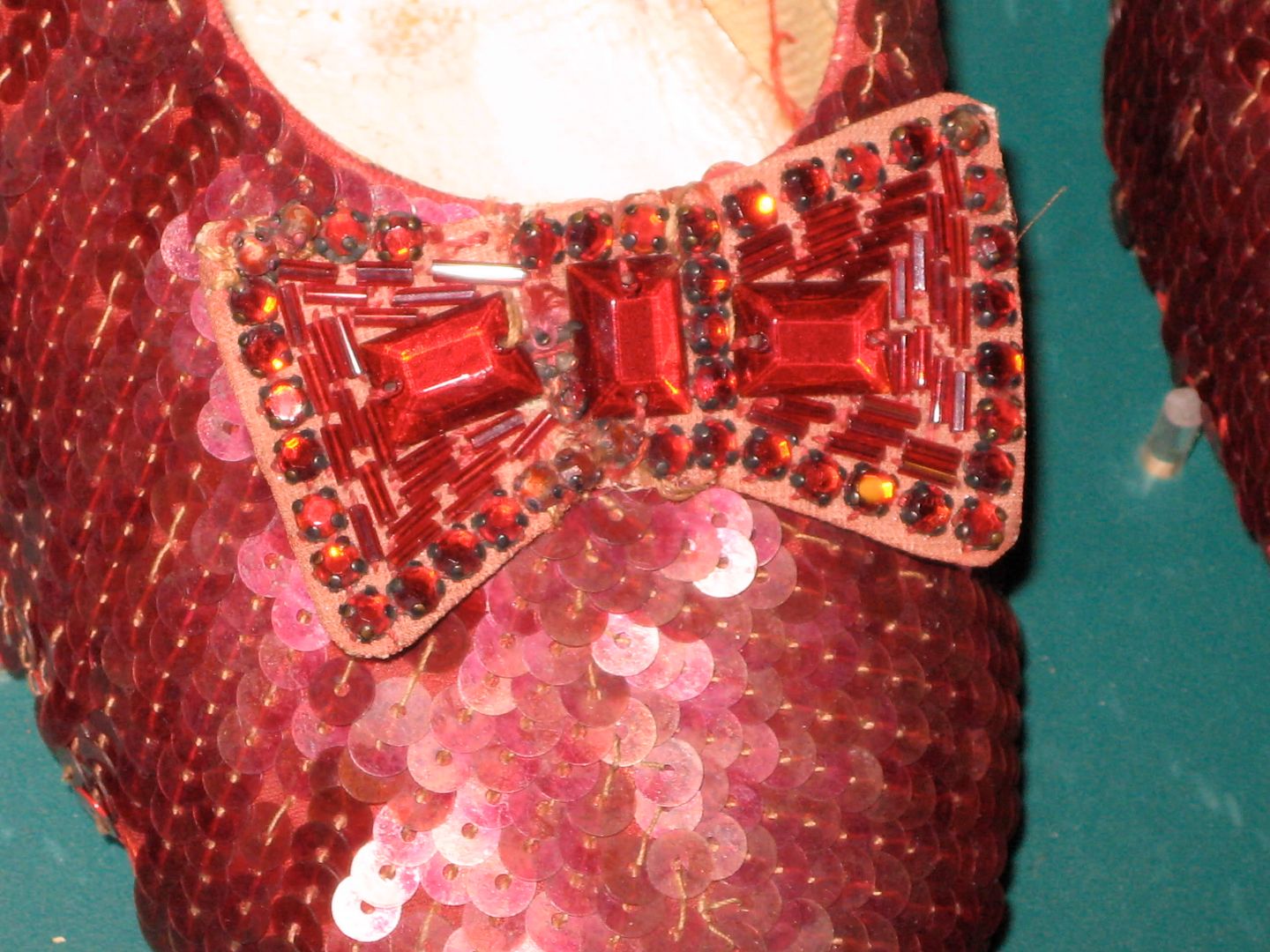 Those fabulous costumes in old hollywood films often used hook and eye tape and snaps to hold the garments closed and make it easy to get the garment on and off. That sounds cheap because the costumes were cheap at the time. Your local playhouse may have costumes on par or even better made.


Since my shoes weren't meant to just look good on screen, I decided to move away from a facsimile. I kept the main elements of the shoe: an almond-toed pump with a comfortable heel, red sequins, and a bow. Then, I modernized the look a bit with a sleeker, higher heel (though still comfortable) and the bow placed to the side at an angle. Instead of sewing the sequins on, I glued them on en masse. I like the texture it gives verses rows of perfectly placed sequins or glitter. My bow is also three dimensional, made from fabric scraps.


For More Information than you may want to know on the various incarnations of Oz, check out The Wizards of Oz post from Verdoux.

Even more informtion than you may want to know.

Costume Discussion.
Click on images to be carried to their source, most of which are also linked at the end. Sources of my information also linked at the end.

Lost somewhere in Oz,
Ivy Frozen